Few musicians have a greater legacy than Tony Bennett. The jazz singer has more than 70 years of experience in the entertainment industry and has shared the stage with legends like Frank Sinatra and Ella Fitzgerald.
Age has taken a toll. Bennett was identified as having Alzheimer's disease in 2021 and is currently receiving the best care.
Tony's passion for music hasn't diminished despite this. The rumors of Lady Gaga's "two final performances" have already been proven. Simply put, we'd want to watch him perform one last time.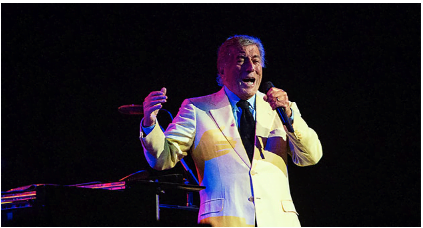 Tony Bennett, 96, didn't become famous overnight. In actuality, his early years were quite difficult.
Tony Bennett – early life
Anthony Dominick Benedetto was born in Queens, New York, on August 3, 1926, and his parents had just emerged from the Great Depression. Tony's father passed away when he was just 10 years old, leaving his mother to care for the three kids by herself.
"She worked so hard, she made dresses and she taught me the greatest lesson I've ever learned," Bennett told Nobhill Gazette.
"She said, 'Don't ever have me work on a bad dress. If it's a good dress, I'll work on it and make sure it comes out right.' So, I applied that theory to music and never made a bad song. Every song is a worthwhile song to sing."
Bennett referred to Louis Armstrong as "the King" when he was a little child and admired him. He attended the New York City High School of Industrial Arts but finally left. As a substitute, Bennett started working as a waiter to support the family's finances. In the end, that turned out to be the best thing that had ever happened to him.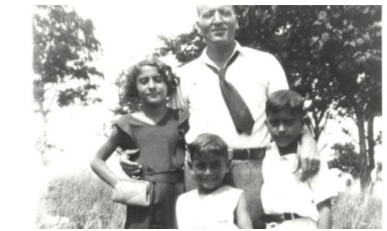 While serving the customers at the Italian restaurant where he worked in his hometown of Astoria, New York, Tony began singing. For someone who is now recognized as having one of the most iconic voices in history, it is hardly the normal career route. However, it was ideal for Tony.
"I loved that time of my life, and I honestly feel that, if I hadn't made it professionally, I would be perfectly happy going back to being a singing waiter," Bennett recalled.
Realized he loved performing
"It was a great training ground, as I learned so many songs from the cooks in the kitchen when we would get requests where we didn't know the song or all the lyrics. And it also strengthened the love that I have performing for the public, which was first inspired by my Italian-American family.
"We would gather at our house every Sunday, have a big meal and then, afterwards, the family would sit in a circle and my brother, sister and I would entertain them," he added.
"It was during that time that I realized that I loved performing and making people happy. So, whether it's in a restaurant or a concert stage, it makes no difference — I just like to entertain people."
Tony Bennett served in the Army infantry during World War II. Once back in the US, he started pursuing his big passion in life; music.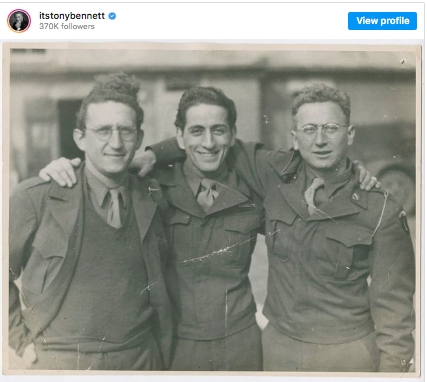 He went on to study singing at the American Theatre Wing. There, Bennett was coached by Mimi Spear, a person who became essential for his major success.
She told me: 'Don't imitate other singers; imitate musicians'," Bennett recalled.
"That's the same thing that Billie Holiday said in her book, that she imitated Louis Armstrong. I imitated (jazz pianist) Art Tatum. He held on to the basic melody like a rock, but his chords and sense of accompaniment were astounding."
By this point, Tony was starting to perform more and more, now under the name Joe Bari. In 1949, he was finally discovered and picked up by the legendary singer, comedian and performer, Bob Hope.
Tony Bennett – 'I Left My Heart in San Francisco'
He decided "Joe Bari" wasn't a great name. Instead, it was at that point Hope suggested "Tony Bennett". Ever since that day, it's been his name.
Bob Hope loved what he saw in Tony, and went on to give him his own road show. As Bennett told Billboard in 1997: "I've been on the road ever since."
Bennett joined Columbia Records in 1950 and immediately got to work on recording. Rags To Riches, Because of You, and Stranger in Paradise were among of his early hits.
Bennett drew in a huge audience, and his great, smooth voice made him popular with many young people.
He had established himself as a prominent singer by the 1950s' end. Bennett wanted to try something else at this point though. He started recording jazz records and entered the genre.
I Left My Heart in San Francisco, a B-side to a single, is one of his most well-known songs. Bennett won his first Grammy Awards for Best Record of the Year and Best Solo Vocal Performance for the song, which was released in 1962. The song had been written in 1953, but it became somewhat of a signature tune – and paved the way for a lot more success.
"We were on our way to San Francisco and RalphSharon — who was my accompanist at the time — said, 'You have to listen to this song.'. That was the first time I had ever heard I Left My Heart in San Francisco," Bennett recalled.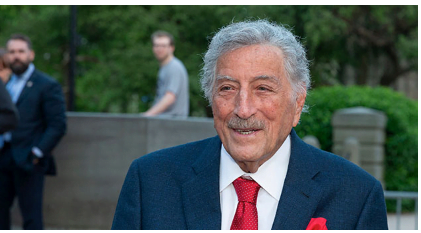 Sold more than 50 million records
"And on that trip, we had a show at a little club in Hot Springs, Arkansas. We were rehearsing the song and a musician came over and said: 'If you record that song, it's going to be a big hit'.
"So when we got to San Francisco, we started performing it and everybody said 'Where did you find that song? You need to record it right away.' We recorded it and, sure enough, it became the biggest record I ever had."
The song became legendary, and elevated Bennett to the next level. In fact, it was selected for preservation in the National Recording Registry by the Library of Congress in 2018 for being "culturally, historically, or artistically significant".
The remarkable career of Tony Bennett could be discussed for days. Due of disagreements about the type of music they believed Tony should record, he made the decision to leave Columbia Records and instead started a completely new journey. Success didn't come easily, but he never gave up trying. And we are extremely appreciative for that.
Bennett has published 60 studio albums and 11 live albums throughout the course of his illustrious career, and his CDs have together sold more than 50 million copies worldwide. But it wasn't until Duets II in 2011 that he scored his first No. 1 album on the Billboard 200.
Although Tony Bennett has always made music his life, he has other interests as well. Together with his wife Susan Crow, he founded the Frank Sinatra School of the Arts in New York for artistically gifted teenagers.
Painter Anthony Benedetto
For Bennett, the name for the school was a no-brainer.
"He changed my life," Bennett explained.
"In [an article in] Life magazine, he was emphatic about saying that I was the best singer he'd ever heard. I was moderately popular then, and every so often I'd have a million-selling record, but for me it was about being good, not the most famous.
"[Then] he called me the best he'd heard. And since then, I sold out around the world. I thought [naming the school after him] was proper etiquette."
Besides being a talented musician, Bennett is actually a well accomplished painter. He always signs his paintings with his given name, Anthony Benedetto, and has been featured at many well-received exhibitions.
"The greatest compliment I could ever get is being called a good singer and a good painter. I've always had a passion for both," he explained. "I love both equally. It's like a balance.
"But I paint almost every day. I like oils best, but when I travel I do a lot of watercolor, pen and ink, sketches and charcoal. I did some watercolors at the beach in Jupiter."
Tony has also managed to reach a younger audience in more recent times, doing duets with both the late Amy Winehouse, as well as Lady Gaga. However, earlier this year, his life took a drastic turn.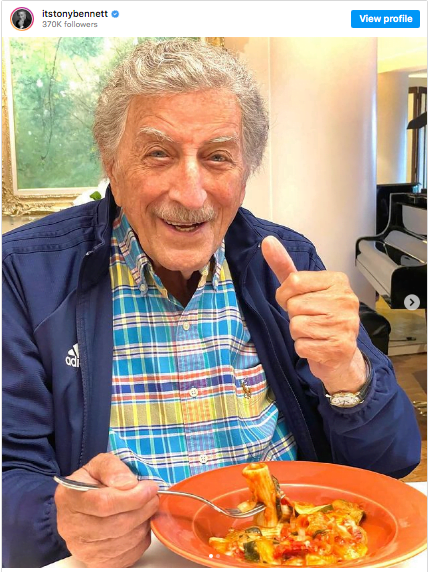 Tony Bennett – Alzheimer's
In an interview with the Alzheimer's Association, the Grammy-winning star revealed he was diagnosed with the condition, a "degenerative brain disease" which causes memory loss.
"Tony Bennett has Alzheimer's disease, the most common form of age-related dementia," ARRP reported.
According to the ARRP, Tony was diagnosed with Alzheimer's in 2016. However, his wife Susan said that he was "showing clear signs of the disease" by 2018.
Dr. Gayartri Devi – the neurologist who diagnosed Tony – said that Bennett is doing well, even though he has had "cognitive issues". The doctor alsp noted "multiple other areas of his brain are still resilient and functioning well".
"He is doing so many things at 94. He really is the symbol of hope for someone with a cognitive disorder," Dr. Devi added, crediting Susan for her "level of devotion" for her husband.
"I've been humbled by [her]. She also expects a lot from him. I think her background as a teacher helps, but she's also very much in love with him. And he rises to her expectations."
Early in July, Tony Bennett made a rare appearance in New York City with his wife Susan Crow at the Tony's MTV Unplugged Concert, where he collaborated with Lady Gaga. He appeared to be "happier than ever," according to Closer Weekly.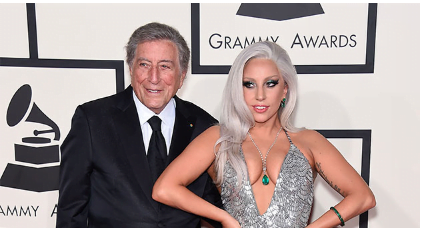 There is no doubt that Alzheimer's is a severe and brutal disease, but the fact that Tony is thriving despite his illness gives us hope.
Recently, further encouraging information regarding Tony Bennett's future was made public.
Tony will sing at Radio City Music Hall in New York City with Lady Gaga for two nights in August, which also happens to be Bennett's 95th birthday. According to CNN, it is being referred to as "their final performances together."
Not only that, but it will be the last New York City performance of Bennett's career, according to a press release. It's "set appropriately at a venue that Tony has enjoyed a multi-decade run of sold-out shows."
Later this year, the two will also release a new joint album.
"I am so honored and excited to celebrate Tony's 95th birthday with him at these special shows," Gaga said.
Legendary musician
There aren't many things Tony hasn't done in his life. The Grammy-Award winning artist and painter has lived a whole life in show business, giving people hope through his music
So what has been the greatest honor?
"Meeting Susan, being an American and the reaction I get from my audiences. I can't even describe how phenomenal that has been in my life," he said.
Tony Bennett is a true legend, and we really hope he will be able to live for a very long time despite his Alzheimer's. Thank you for all the wonderful music, Tony!
Please, share this article on Facebook with friends and family to honor Tony Bennett!