Hollywood actor Jeremy Renner was injured in a snow plow accident that occurred due to weather, and he is now in the hospital in a "stable but critical" state.
The 51-year-old was reportedly evacuated to the hospital following the incident, which is alleged to have happened while he was "plowing snow."
"We can confirm Jeremy is in critical but stable condition with injuries suffered after experiencing a weather related accident while plowing snow earlier today," the star's rep confirmed with Variety. "His family is with him and he is receiving excellent care."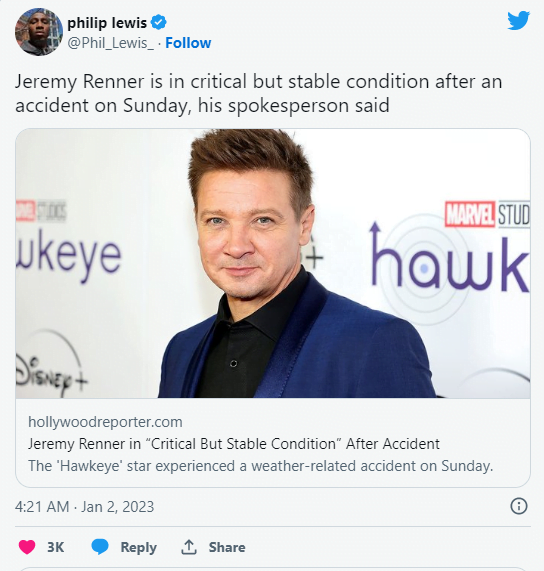 Although the precise site of Renner's accident hasn't been officially confirmed, reports claim that Renner had owned a residence in Washoe County, Nevada, for a number of years. On New Year's Eve, the area saw considerable snowfall as a result of a storm.
Only last month, the actor – known for his roles in such films as The Hurt Locker, American Hustle, and Mission Impossible: Ghost Protocol, as well as his role as Hawk Eye in the Marvel Cinematic Universe – posted a video of himself driving a 4×4 vehicle in the snow.
"Monday morning Pre winter preparation couldn't be more fun !! #reno #tahoe," Renner caption the video.
Donny Osmond reveals truth about wife of 44 years
The aforesaid storm which occurred on New Year's Eve is said to have resulted in thousands of homes suffering power cuts across northern California and parts of Nevada.
Renner is known for going out of his way to help communities, and has proved time and again that he is a compassionate soul.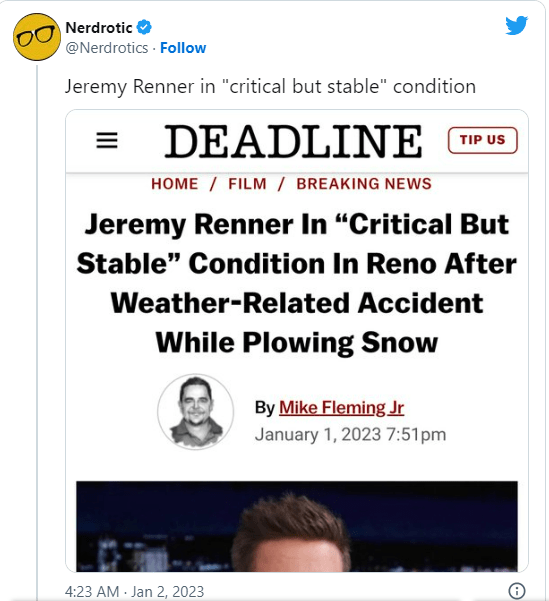 The 51-year-old is set to star in Disney+ show Rennervations, a four-part series in which the actor attempts to help communities around the world by reimagining unique purpose-built vehicles to meet the needs of the area.
According to the latest updates on the actor's condition, he is stable but still remains in the ICU. He has undergone two surgeries to treat the injuries he sustained after his accident.
We hope that Renner makes a full and swift recovery.
Please share this article on Facebook if you want to send love and prayers where they're needed.