Prince William who is now know as the Prince of Wales has issued a deeply personal statement about his grandmother  the late Queen Elizabeth II.
He stated that "On Thursday the world lost an extraordinary leader whose loyalty to the nation, the Realms and the Commonwealth was genuine"
The significant of her historic reign will be the subject of many articles in the upcoming weeks.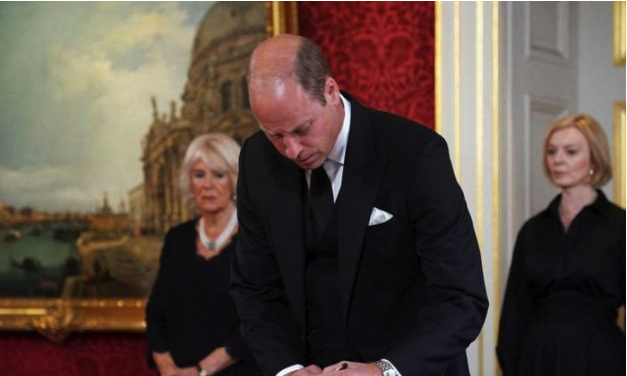 "However,I have lost a grandmother. While I shall miss her I also feel a great sense of gratitude. I am in my fifth decade and have benefited from The Queen's knowledge and assurance.
William said of his grandmother in his statement on Saturday.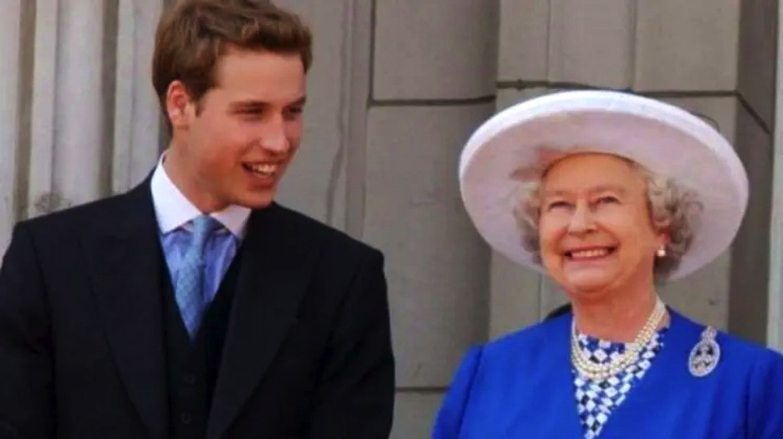 "My wife has had twenty years of her guidance and support. My three children have got to spend holidays with her and create memories that will last their whole lives."
In what could be seen as a references to his wedding to Kate and, possibly, to his mother's death, he added: "She was by my side at my happiest moment. And she was by my side during the saddest days of my life."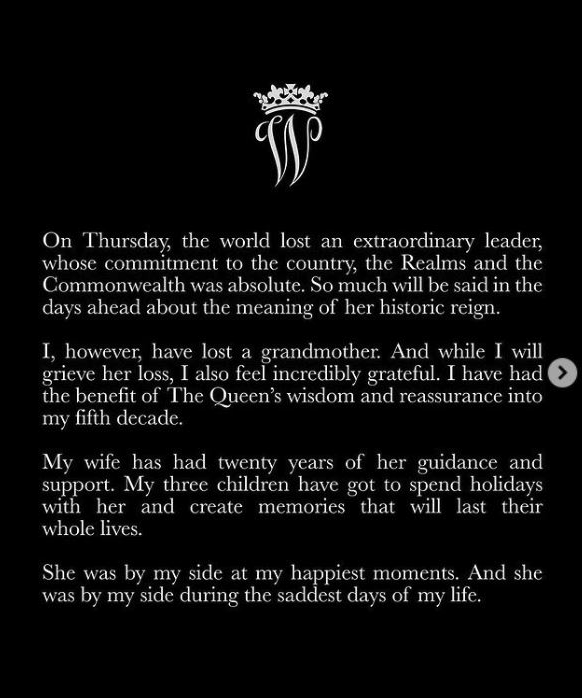 The Prince said that while he grieves the Queen's loss, he also feels "incredibly grateful".
"I thank her for the kindness she showed my family and me," he said. "And I thank her on behalf of my generation for providing an example of service and dignity in public life that was from a different age, but always relevant to us all."
Echoing the words of his father, he said: "I knew this day would come, but it will be some time before the reality of life without Grannie will truly feel real."
King Charles III did in his first televised statement to the nation on Friday, the Prince also spoke of love.
"My grandmother famously said that grief was the price we pay for love. All of the sadness we will feel in the coming weeks will be testament to the love we felt for our extraordinary Queen. I will honour her memory by supporting my father, The King, in every way I can."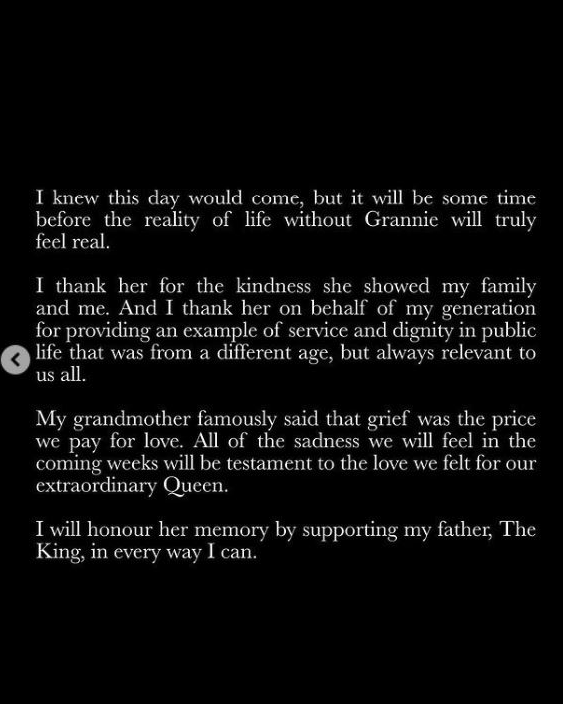 Prince William and his wife Kate, the Princess of Wales, both 40 and parents of three young children, immediately assume a much more central role as the new face of the monarchy.
The pair made a surprise joint appearance with Prince Harry and his wife Meghan, the Duchess of Sussex, warmly greeting a large crowd gathered outside Windsor Castle to remember their long-reigning monarch.
William and his brother Harry nad been on frosty terms since Harry quit as a senior royal and moved to the US two years ago.
Their show of unity on Sunday was reportedly initiated by William and left some observers hoping that Harry, 37, might return to the fray and support his elder brother in sharing the heavy workload now on William's shoulders.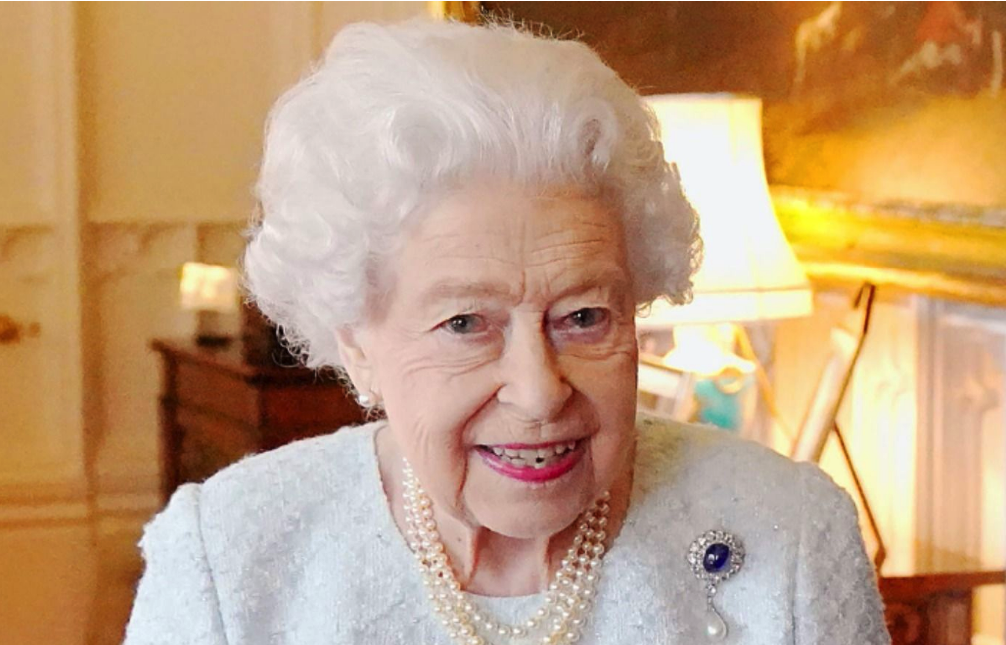 Buckingham Palace announced the Queen's death at on Thursday evening, September 8.
Her funeral is set to take place at Westminster Abbey in London on Monday, September 19. Following the service, her coffin will be transported to St. George's Chapel.