Pittsburgh Steelers Hall of Famer quarterback star Terry Bradshaw 74 revealed he has battled cancer twice in the last year.
Bradshaw currently co-hosts "Fox NFL Sunday." Last week, fans were concerned when the Hall of Famer ran out of breath on air and had to be helped up by Howie Long. This Sunday Bradshaw wanted to let people know what has been happening in his life.
"In November, I was diagnosed with bladder cancer. I went to the Yale University Medical Center – surgery, treatment. As of today, I am bladder-cancer free. That's the good news."
"Then in March, feeling good. I had a bad neck. I get an MRI. Now we find a tumor in my left neck. And it's a Merkel cell tumor, which is a rare form of skin cancer. So I had that surgery done at M.D. Anderson in Houston".
"Folks, I may not look like my old self, but I feel like my old self. I'm cancer free, I'm feeling great. And over time, I'm going to be back to where I normally am."
During today's show, Terry Bradshaw shared that he has been battling cancer over the past year. As of today, he is cancer free, and he discussed his fight and plan for the future: pic.twitter.com/RSwVxlXC97

— FOX Sports: NFL (@NFLonFOX) October 2, 2022
Bradshaw spent his whole career in Pittsburgh. He won four Super Bowls with the Steelers. He also has two Super Bowl MVPs and the 1978 NFL MVP. After a 14 year career, he retired in 1983 and in 1994 he joined the Fox pregame show.
For his work in broadcasting, Bradshaw has won three Sports Emmy Awards as a studio analyst.
According to the Mayo Clinic Bladder cancer is not as common type of cancer compared to others with roughly 200,000 cases diagnosed each year. Common symptoms include: frequent urination, blood in urine, painful urination, and back pain. Smoking has been identified as increasing the risk of bladder cancer.
The 5-yr survival rate of bladder cancer is relatively good if the cancer has not spread and stayed localized according to figures from the American Cancer Society.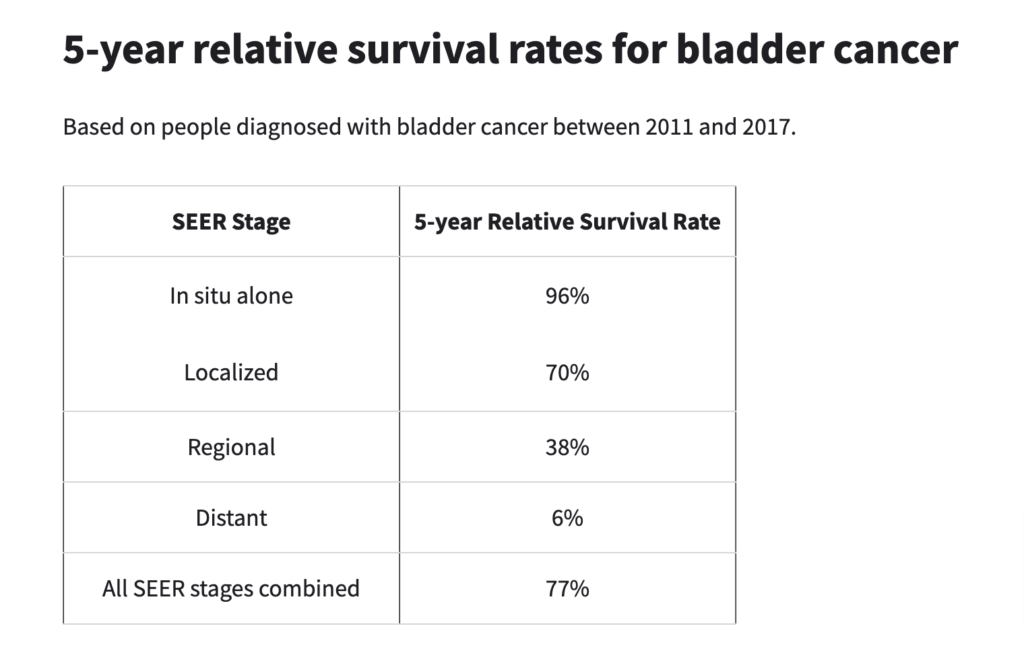 American Cancer Society
It is important to stay regular with doctor checkups and physicals.
We wish Bradshaw a full recovery and that his cancer stays in full remission.