On Tuesday, October 4th, the world lost a legend when Loretta Lynn passed away. "Our lovely mom, Loretta Lynn, passed away peacefully this morning, October 4th, in her sleep at home at her beloved ranch in Hurricane Mills," her family said in a social media post announcing the news.
"As they are grieving, the family has requested privacy. A public announcement will soon be made with information on a memorial."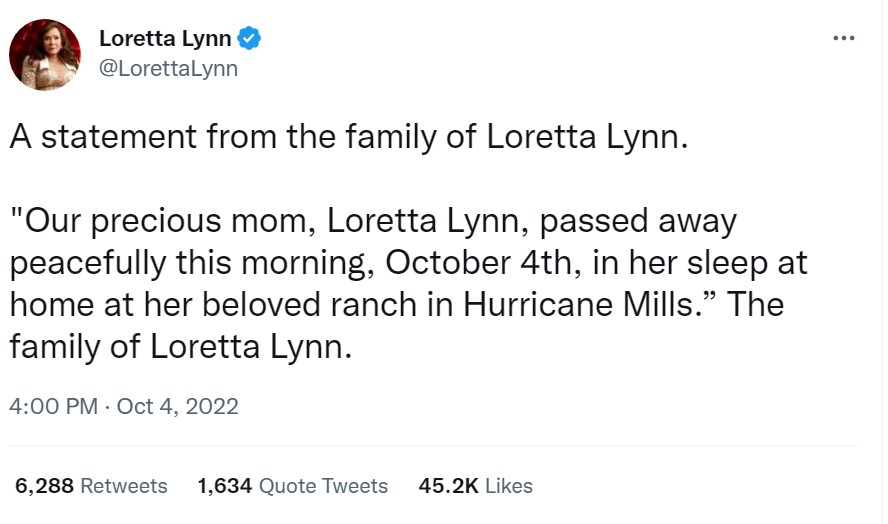 Friends and followers paid tribute in large numbers. The most meaningful ones came from her family, who were the ones who knew her best.
Getting to know Jesus was something that provided her so much joy and peace, her granddaughter Tayla stated. "T his defeat. This sorrow. Everyone feels it. Like me, you feel it."
For a very long time, you were her family. Not only was she ours. She was also yours. Even though we are heartbroken, we are very grateful that she is by her father's side in heaven.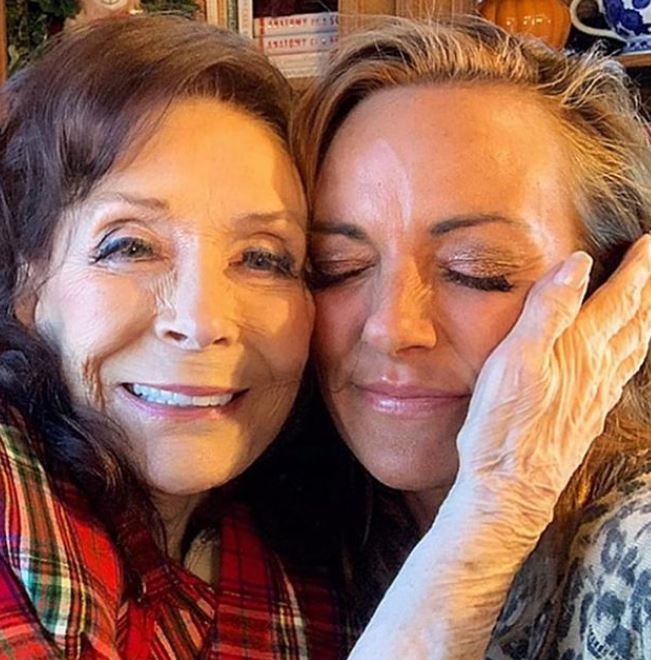 One of Loretta's younger children, Peggy Marchetti, sent a long and heartfelt message on Facebook the night she passed away.
In her note, Peggy said, "Today I kissed my lovely mom farewell. She looked so calm like a sleeping angel." Even in death, she is stunning because of her incredible luminosity, which is both ageless and one-of-a-kind.
Peggy acknowledged feeling guilty for not wanting her mother to leave her. She also disclosed that Peggy had been her mother's principal caregiver for the last five years.
"For the past five years, I have taken care of her on a daily basis rather than focusing on her medical needs. It was the most significant and dignified project I've ever engaged on. I assured my family that I would look after her. She would remain in our house, and I would make every effort to keep her there for as long as I could. I did my best and try to uphold that commitment, and I mean that," she wrote.
Peggy's post had a really moving conclusion.
It was quite strange since mom had just informed us, in a very enthusiastic voice, that she was "ready to go to heaven," that "Doo is coming to take me home," and that "they told me I'm truly going home."
Peggy went on to say, "She knows…"
She stated she was going to be with Daddy because she simply knew and was happy about it. I replied, "Hey, not today," while thinking, "Yea, one day." Hold up, I'm going to spend the night with you tomorrow.
Loretta was prepared to enter Heaven and join her late husband and children there. Read Peggy's whole post down below.