While most of the attention has been focused on Damar Hamlin's condition following his collapse on the field during Monday Night Football, as the Bills safety has drastically improved information about those who played a key role in saving his life have come to light.
One of the first people to administer "life-saving efforts" was the Bills' assistant athletic trainer Denny Kellington.
"You talk about a real leader, a real hero, in saving Damar's life," the Bills' head coach Sean McDermott said during a press conference.
Hamlin, 24, collapsed on the field after what appeared to be a routine tackle against Cincinnati Bengals receiver Tee Higgins. But moments after Hamlin stood up he fell to the ground.
Almost immediately the Bills' medical staff recognized something was seriously wrong and rushed to Hamlin's side.
Officials from University of Cincinnati Medical Center, where Hamlin is currently receiving care, called it "textbook execution."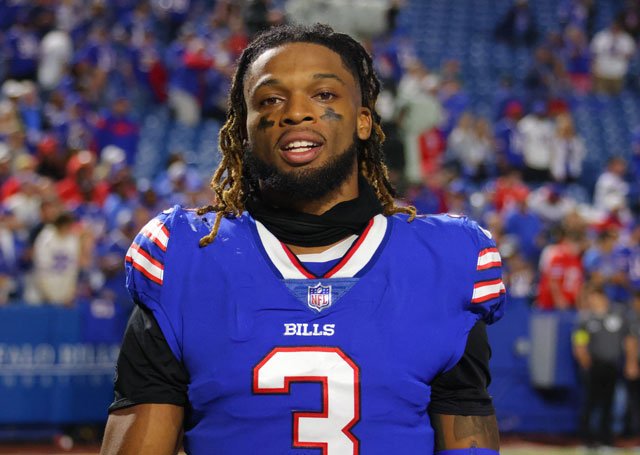 "It just speaks really to the immediate recognition that there was something significantly and seriously wrong by the Bills medical staff. We cannot credit their team enough," University of Cincinnati Health physician Dr. William Knight told reporters Thursday.
Josh Allen thanks the Bills training staff for their heroic work on Monday night.

"They saved his life" #BillsMafia @WKBW pic.twitter.com/sglIO1wNSm

— Matthew Bové (@Matt_Bove) January 6, 2023
"The Bills training staff who was with him immediately recognized that this was not a run-of-the-mill injury, and they had a significant event on their hands and immediately responded …," said Dr. Timothy Pritts. "It went as well as something like this can go under very challenging circumstances, and they did a fantastic job, which is why we're here today."
It's been reported that Hamlin underwent CPR less than one minute after collapsing on the field as well as defibrillation, and he received the life-saving measure for nine minutes before he was transported to the hospital.
Once it was revealed Kellington was the first one to perform CPR, he received praise from many online.
All of the medical personnel involved in saving Damar Hamlin's life deserve our praise. It's because of their immediate response that he is alive today.
Please share and thank the medical personnel who helped save Hamlin and those who continue to treat him.