What name do you call your grandparents? Nonna and Nonno? Savta and Saba? Mawmaw and Pawpaw? Baba and Gigi? Yaya and Papoús?
Or just plain Grandma and Grandpa?
These are "terms of endearment," that children all over the world call their grandparents by. Each name holds within it feelings of love and deep devotion.
According to Roma Hanks, Ph.D., grandparenting is one of the most important family roles of the new century. Today, more than ever grandparents play an important role in their grandchildren's lives; especially around holiday time. Grandparent activities around the holidays are something grandchildren look forward to.
Christmas Grandparent Activities
Do you remember the traditions and activities that your grandparents did with you at Christmas? Whatever activities you engaged in, undoubtedly you remember sharing those memorable moments with people you love best.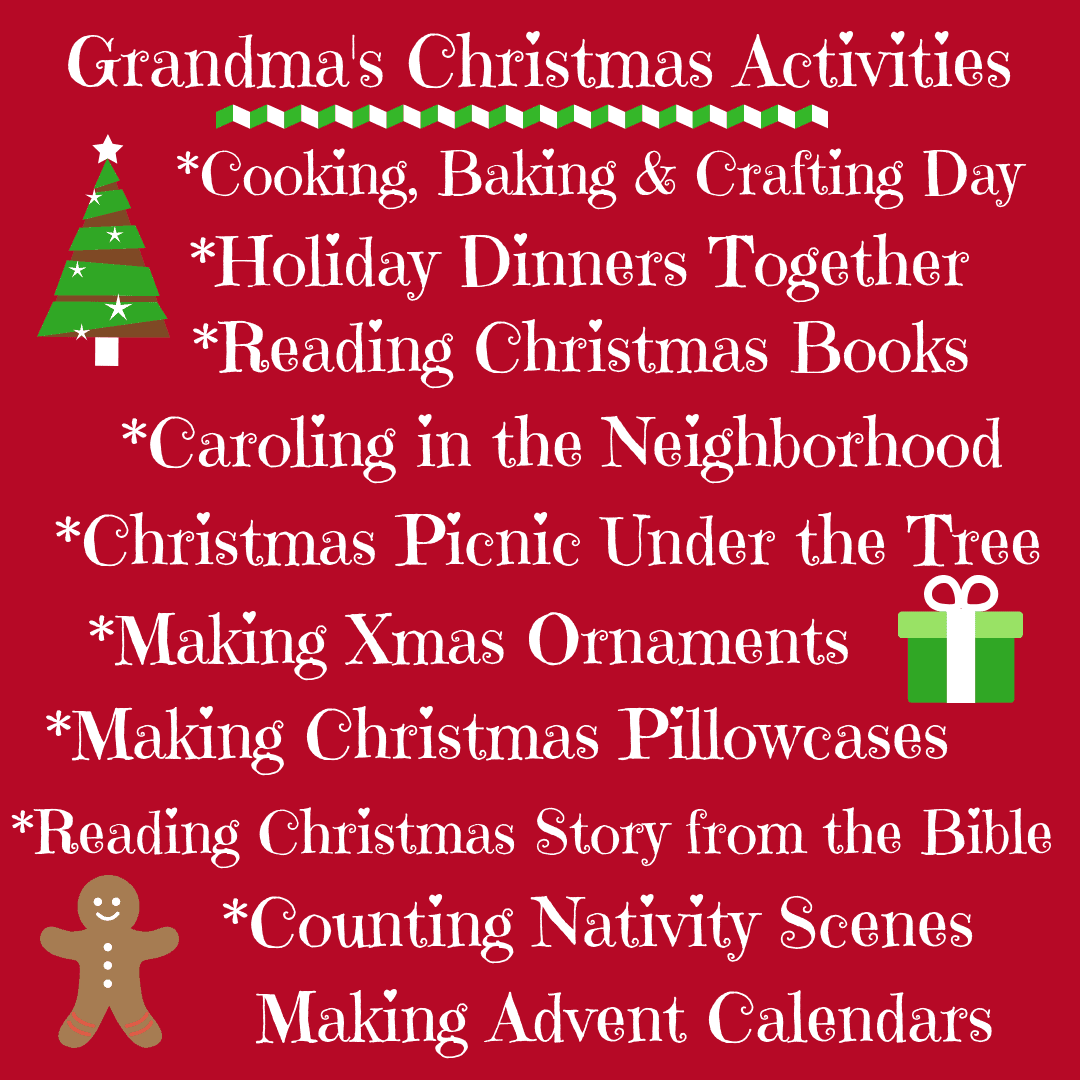 Here are three dedicated Grandma's, Yaya's, and Nana's who create extra special memories for their grandchildren around the holidays. If you're a grandparent–check out these 12 ideas and if they "fit" for you–incorporate them into your own festivities with your grandchildren!
Grandparent Activities: Cooking, Baking & Crafting
Do you have a favorite holiday recipe for cookies, cakes, candies, or pies you can make with your grandkids around the holidays? Dig out those recipes, plan a day, and invite the grandkids over to bake and cook to their heart's content. Many grandchildren learn the fine art of cooking while in the kitchen with their grandparents.
Or, as a grandma–do you like to craft? Most grandkids LOVE to craft–especially when it's with grandma. Choose crafts that are festive, simple, and involves cutting, gluing, drawing, coloring, writing, and even sewing.
A Yaya Who Loves to Cook, Bake & Craft
Here is a Yaya (grandmother) who loves baking and crafting with her grandkids at Christmastime.
Violet Favero is from Florida. She is Greek and Greek mothers and grandmothers are the pillars of their homes and the matriarchs of their families. She's the author of three children's books, (with 6 more in the making) a mother of five children, and her eight grandchildren affectionately call her "Yaya."
Greeks love to cook. And Greek mothers/grandmothers like nothing more than to have their large families gather around the table eating traditional favorites they have lovingly prepared.
Violet is such a mother and grandmother. And Christmas means extra food, extra fun, and loads of laughter and love.
Here are two activities involving baking and crafting Violet does with her grandkids at holiday time:
#1: Silly Yaya Christmas Cookie and Crafting Extravaganza: Fun Grandparent Activities
Yaya Violet is famous for her lavish Christmas dinners and holiday activities. Every year she hosts a "Silly Yaya Christmas Cookie and Crafting Extravaganza" where her children, grandchildren, and other stray kids come and spend a day creating holiday crafts, baking cookies, and eating pizza.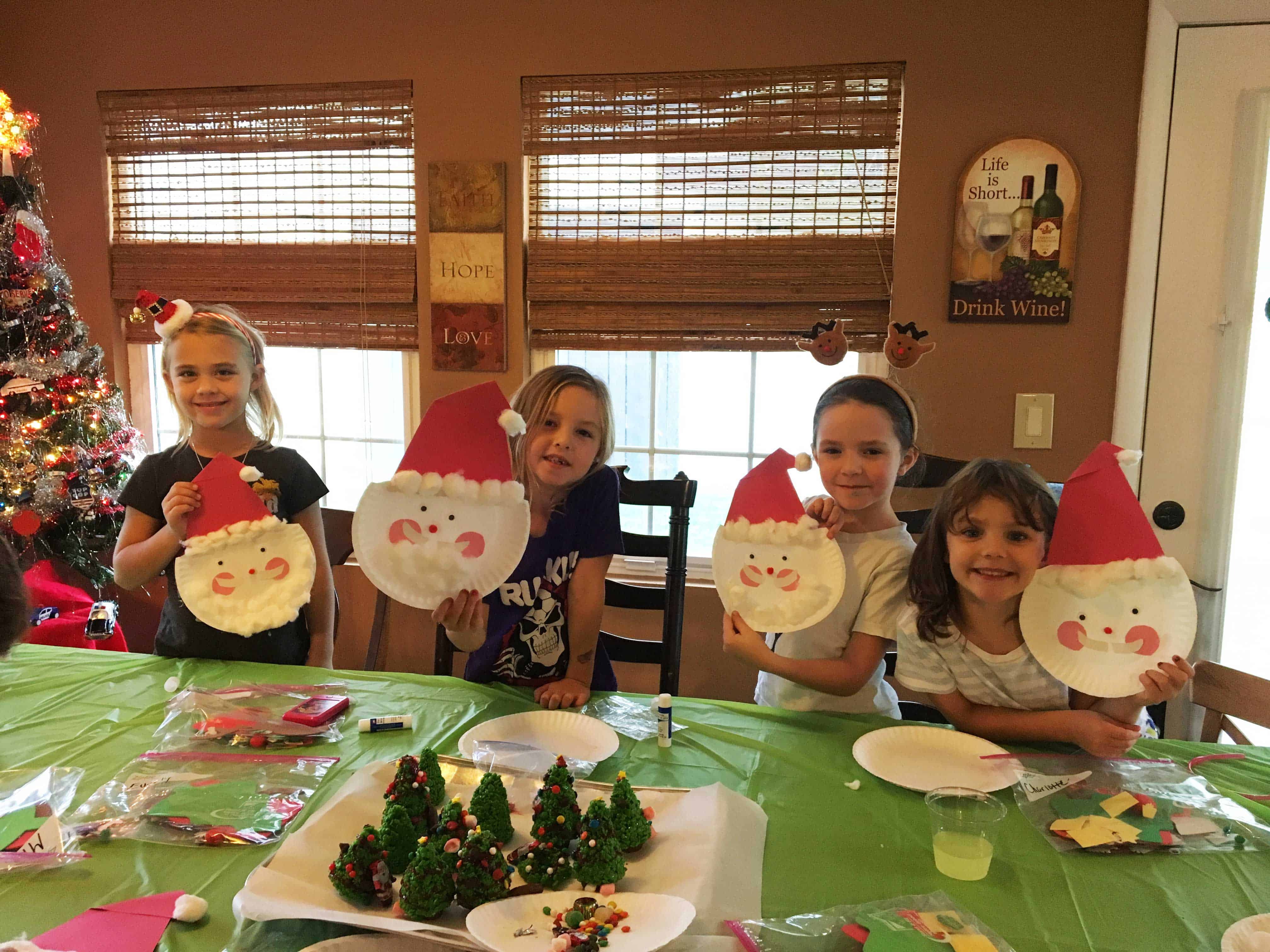 Over the years, they've made Santa hats from paper plates and construction paper, foam Christmas trees decorated with frosting and stickers, candy cane ornaments, reindeer ears, and more.
Then they pile into the kitchen to make Grinch cookies (green cookies with a hard-heart-shaped gumdrop), snickerdoodles, and peanut butter blossoms.
#2: Teaching Culinary Skills at Christmas and Throughout the Year:
Yaya Violet believes that teaching culinary skills to her grandkids is important.
One of her books, Sunday Dinner at Silly Yaya's includes an old family recipe for salad dressing. She gives ideas on how to involve the grandkids by letting them cut up the garlic and shake the dressing in a cruet bottle. She is teaching them the art of cooking that they can use their entire lives.
And when preparing the Christmas dinner–everyone pitches in to help. Working together side-by-side in the kitchen forms loving bonds between family members.
Here are four of the many books Yaya Violet has written for grandkids and grandmas! Included are recipes, activities, and ideas to share with Yaya's and grandkids everywhere!